Vegan Mac and Cheese/No-nuts, no-oil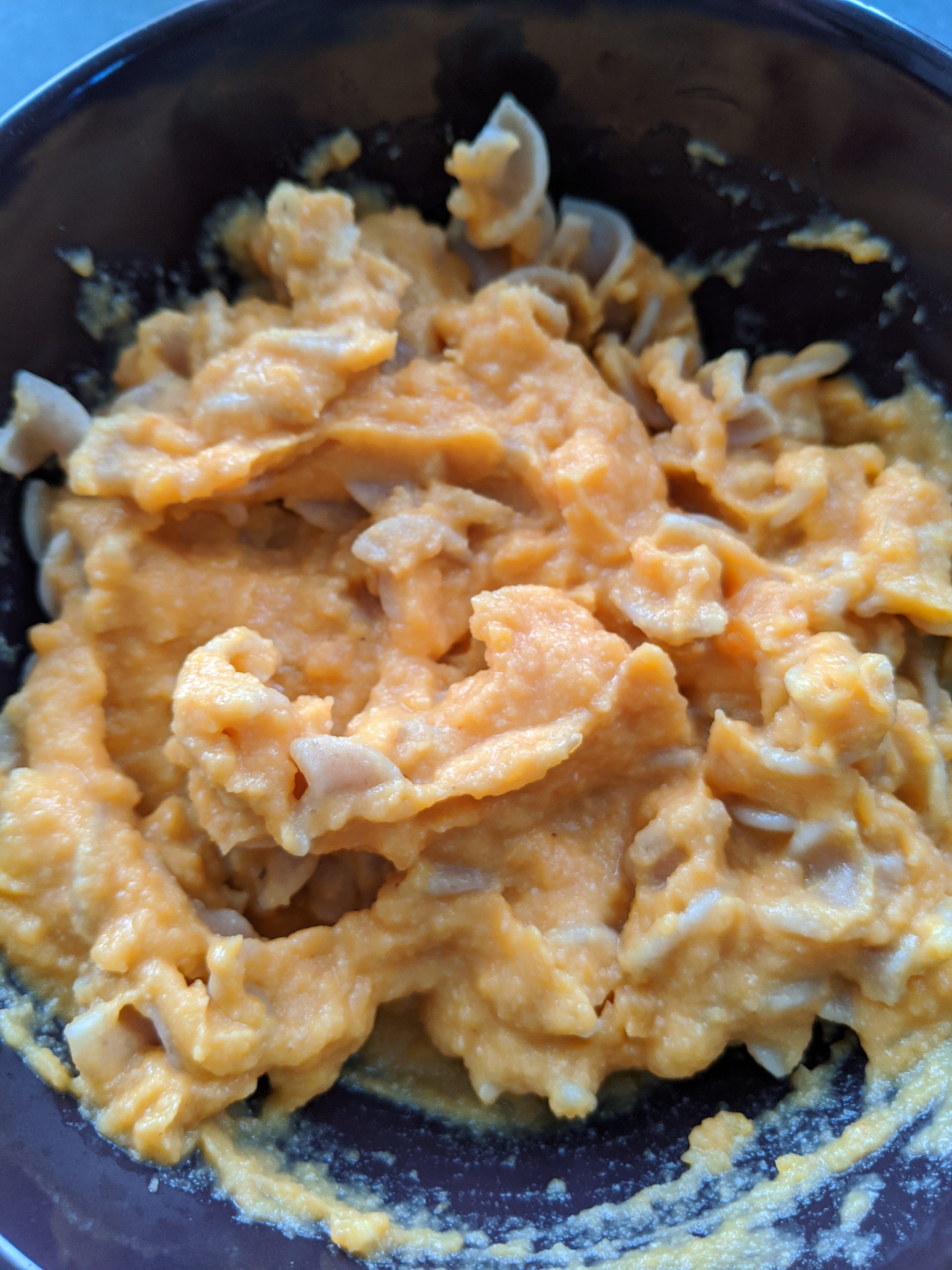 I have a confession to make. I don't know what mac and cheese tastes like with dairy. I think I ate it once when I was 11. All I know is that it was disgusting and probably nothing like what you remember. I've always been allergic to dairy. As a teenager I would eat pizza and ice cream anyway. I justified the consequences as fitting in with the crowd.
It's summer and it's hot in Portland. We get the heat in the afternoon and it's too hot to cook. I decided to make something for lunch and save my sandwich for dinner.
If you have an Instant Pot make the squash or potatoes in there. It's so easy. Add 1+1/2 cups water to the bottom, add the steamer shelf, and cook until soft. I used sweet potatoes this time and my trick is to scrub them, cut in big chunks, cook, and cool. Once they are cool, it's easy to take off the skin. I usually cook my butternut squash whole as it's so much work to cut up.
Feel free to increase or decrease the spices to your tastes. Add some other spices like ground mustard or turmeric for a different flavor.
Ingredients
2 cups Butternut squash or sweet potatoes cooked, peeled, cooled, and diced
¼ to ½ cup Plant-based milk
4 Tbsp Nutritional Yeast
½ tsp garlic powder
1 tsp onion powder
¼ tsp paprika
½ tsp sea salt
2 tsp lemon juice
Parsley (optional)
Rosemary (optional)
Pasta (GF optional) – enough for 2 servings
Instructions
Cook squash or potatoes, peel, and cool.
Add everything except parsley and pasta to a blender or food processor and blend until smooth. Start with ¼ cup of plant-based milk and add as needed.
Heat sauce on med-low, add more liquid if it's too thick, stir to keep from sticking to the pan.
Cook pasta and drain.
Mix sauce with pasta and serve. Sprinkle parsley or rosemary over the top if desired.
---