Eating My Greens Soup
Lately I've been tracking what I eat using Dr. Greger's Daily Dozen app on my phone. (Check it out on iTunes or Google Play.) It appears I'm missing out on cruciferous vegetables and greens. So I came up with a strategy, make a bag of frozen vegetables (cruciferous, of course) and have them with lunch and dinner. So now I've tackled one problem but not the other. It's not that I don't like greens, well maybe that is it. Anyway I have to trick myself into eating the kale staring at me every time I open the fridge. So I thought why not throw all the leftover vegetables into my Instant Pot and see what happens?
It turned out I had a few items clamoring to be used. A bunch of semi-wilted kale, half an onion, zucchini, yellow squash and mushrooms. I added some garlic and tamari and about 1 cup of my favorite broth mix from My Plant-Based Family.
First I had to clean and chop everything. I sliced the onion and left them in pretty large pieces. The mushrooms were already sliced saving some time. I diced the zucchini and squash small so they would cook quickly. Also, after cleaning the kale I chopped it into a mix of ribbons and smaller pieces.
Then I began by setting the Instant Pot to sauté and adding the onions.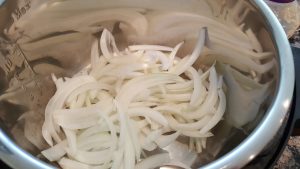 After they cooked for about 3 minutes it was time to add the mushrooms and garlic.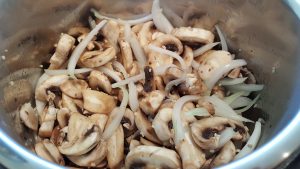 It took about 3 minutes of cooking and stirring for the mushrooms to cook.
Then it was time to add the zucchini and squash.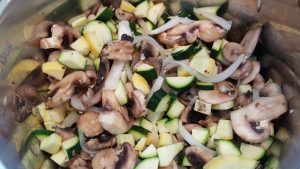 After stirring everything really well I added the kale, tamari and broth over the top. Closed and set the Instant Pot to 3 minutes. I did a quick release when it was finished.
Time to test the results! It's delicious. Maybe next time I should add my cruciferous vegetables and get two checks with one recipe.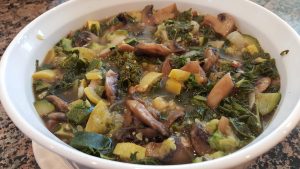 Eating My Greens Soup
Author:
Prep time:
Cook time:
Total time:
Gluten-free, vegan, nut-free vegetable soup
Ingredients
1/2 Medium Onion sliced
1-2 Cloves Garlic
8 oz. Mushrooms sliced
2 Zucchini chopped small
1 Yellow Squash chopped small
1 Bunch of Kale chopped
1 tsp Tamari
1 cup Broth
Instructions
Slice onions and mushrooms.
Chop remaining vegetables small.
Turn Instant Pot (IP) on saute.
Add onions and saute for about 3 minutes or until translucent.
Add mushrooms and garlic. Saute about 2-3 minutes.
Turn off Instant Pot.
Add zucchini and squash, mix well.
Add kale, tamari and broth on top and close lid.
Set IP on manual for 3 minutes. Quick release.
Enjoy!
---